Duck Confit with Spicy Pickled Raisins
Bon Appetit comes through with another winner. We made this for Christmas 2013, and it was great. While total cooking time (roughly 5 hours) is a bit steep, most of that is hands off, and all but the last 30 minutes can be done ahead of time and frozen. Serves 8. Great for a dinner party.
8 skin-on, bone-in duck legs
4 garlic cloves, thinly sliced
1 teaspoon freshly ground black pepper plus more freshly cracked
2 tablespoons plus 1 tsp. kosher salt
10 sprigs thyme, divided
2 tsp. crushed red pepper flakes, divided
1 cup white wine vinegar
½ cup sugar
4 teaspoons brown mustard seeds
2 sprigs rosemary
1½ cups golden raisins
The Night Before:
Using the tip of a knife or the sharp tines of a carving fork, prick duck leg skin all over.
Rub with garlic (slices should stick to skin) and season with 1 tsp. ground pepper and 2 Tbsp. salt.
Put into the pot you'll be using to cook, cover, and chill in the fridge.
Cooking Day (can be done in advance)
Preheat oven to 250°. Arrange duck, skin side down, in a roasting pan or large Dutch oven. Don't overcrowd the pan. You want all the skin to be touching the bottom of the pan.
Add 8 thyme sprigs, 4 chiles (or 1 tsp. red pepper flakes), and ½ cup water.
Cover pan with foil or lid and cook until all fat is rendered, about 2 hours or so. There will be lots of fat, but be sure to check under the skin to make sure all is rendered.
Turn duck skin side up and nestle it into rendered fat.
Cover pan and continue to cook until meat is very tender and bones easily wiggle when pulled, 2–2½ hours longer.
Pickled Raisins
Meanwhile, put mustard seeds in a small satchel, and bring to boil with vinegar, sugar, 2 tsp. salt, rosemary sprigs, remaining 2 thyme sprigs, 4 chiles (or 1 tsp. red pepper flakes), and 2 cups water to a boil in a medium saucepan. (If you are using dried spices to substitute for the rosemary, thyme, or chiles, add to the satchel as well.)
Reduce heat and simmer, stirring occasionally, until sugar is dissolved, about 3 minutes.
Mix in raisins, remove from heat, and let cool at least 1 hour.
Strain raisin mixture into a bowl. Pick herbs out of raisins.
Split liquid mixture in half.
Add raisins back to one half of mixture.
Reserve other half to make a glaze (see final step).
Do Ahead notes:
Raisins can be pickled 1 week ahead -- Cover and chill; bring to room temperature before serving.
Duck can be cooked 1 week ahead - just stop before the "Final step".
To store after the main cooking step, pack duck in fat in an airtight container and chill.
Gingerly remove from the fat packing, then reheat to 200°F before roasting at 400°F.
Day Of / Final step:
Increase oven temperature to 400°F.
Boil reserved raisin liquid (half without raisins) over med-high heat until reduced to a syrupy consistency.
Remove duck from fat and place, skin side up, on a rimmed baking sheet; reserve fat for another use (it will keep 3 weeks in refrigerator or 3 months in freezer; reheat and strain before using).
Season duck with cracked pepper and brush with glaze.
Roast until skin is brown and crisp, 30–35 minutes.
Serve duck with pickled raisins.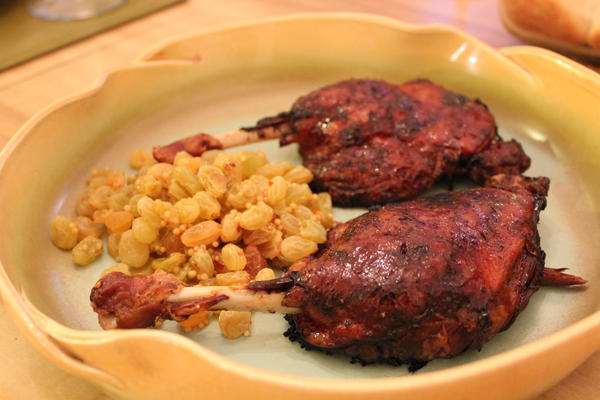 Season:

Cuisine:

Recipe: Course:

Recipe: Main Ingredient:

WikiTags: