Easy Hanger Steak
A simple, quick-marinating but tasty and hip steak recipe, Bon Appetit photo-shoot ready, serves 4.
1½ pounds hanger steak, center membrane removed, cut into 4 pieces
3 sprigs ea thyme, rosemary, chopped
1 Fresno or mild jalapeno, finely diced
6 garlic cloves, smashed
¼ cup dry red wine
2 Tbsp olive oil
Smoked salt, grill spice mix, and extra freshly ground black pepper
1-2 hours before grilling, take hanger steak from the fridge, remove center membrane, and salt with smoked (or just kosher) salt and a salt/pepper/spices grilling mix. Let sit for 15-30 minutes.
Add wine to the steak, let sit another 30 minutes.
Finely mince herbs, garlic, and chile, add with olive oil to the steak, rub in. Let sit until ready to grill, or as long as overnight (move to a plastic bag and remove air if overnight)
Grill steak over medium-high heat; 10-12 minutes for medium rare. I recommend a 30 second per side sear, 2 min per side off-heat with smoke, and then 4 mins per side direct heat or until it feels "done" (hangar steaks are looser than ribeyes!).
Goes great with roasted potatoes and green sauce or chimmichurri
Based on http://www.bonappetit.com/recipe/red-wine-marinated-hanger-steak...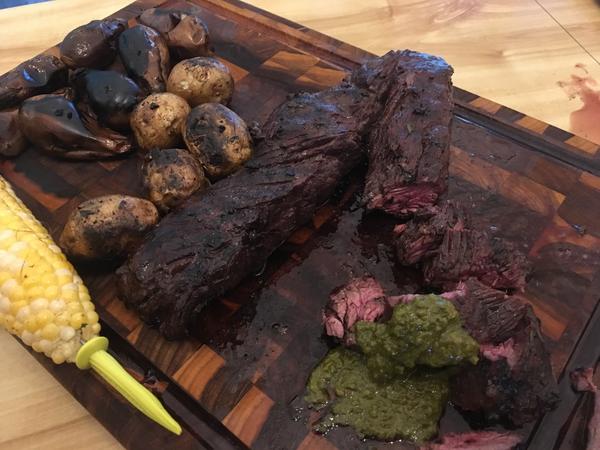 Season:

Cuisine:

Recipe: Course:

Recipe: Main Ingredient: