Pizza
Makes 2 12" round pizzas.
This was the first recipe Jon learned from his Mom, because, damn it's good pizza!
Dough
make about 2 1/2 hours before serving
1 package active dry yeast (2.25 tsp)
About 4 1/2 c. all purpose flour (have 6 c available for kneading/rolling)
1 tsp salt
1 1/2 c. water
In large bowl, combine yeast, 2 cups flour and 1 teaspoon salt. In small saucepan, heat water until very warm (120 to 130F.).
With mixer (or kitchenaid with paddle) at low speed, gradually beat water into dry ingredients until just blended.
Increase speed to medium; beat 2 minutes, occasionally scraping bowl.
Beat in 1/2 cup flour to make a thick batter; continue beating 2 minutes, scraping bowl often.
With spoon, stir in enough additional flour (about 1 1/2 cups) to make a soft dough.
Turn dough onto floured surface (or use kitchenaid with dough hook); knead until smooth and elastic, about 10 minutes, adding more flour while kneading, when sticky.
Shape dough into ball; place in greased large bowl, turning over so that top is greased.
-- At this point, you can put the dough in the fridge for up to 3 days to make the texture more chewy.--
Cover; let rise in warm place (80 to 85F) until doubled, about 1 hour.
While dough rises, prepare sauce and toppings
Marinara Sauce and toppings
1 Tbsp olive oil
1-2 med. onions, diced
4-5 cloves garlic, minced
1 16 oz. (450g) canned tomatoes with liquid
1 6 oz. (200g) canned tomato paste
Salt and pepper, to taste (~1tsp of salt, 2 tbsp pepper)
Herb seasoning (to taste) (Oregano, Rosemary, Thyme, Basil, crushed red pepper ~2-3tbsp ea (fresh is much better), 1tbsp of red pepper)
1 or 2 bell peppers, diced
2 tbsp red wine
"Toppings" that do best when cooked in the sauce:
1 lb. (.5kg) mushrooms, sliced
1 8 oz. (250g) package of pepperoni
1 8 oz can sliced ripe olives
(Other toppings as desired--ham, sausage, raw onions, etc.)
In 2 quart saucepan over medium heat, in 1 T. hot oil, cook onion and garlic until tender.
Add tomatoes with their liquid, tomato paste, herb seasoning, red pepper and salt (I usually add sliced pepperoni at this point); heat to boiling, stirring to break up tomatoes. Reduce heat to low, cover partially and simmer 20 minutes. Cool.
Baking the Pizza
Grease two pizza pans and spread a light layer of corn meal out to prevent sticking
Punch down dough; cut in half; turn onto lightly flour surface. Cover; let rest for 15 minutes and then roll out.
Spread a light layer of cheese over the crust, then sauce, and top with additional toppings and a thicker layer of cheese. You'll use about 32oz of cheese for a well-cheesy set of pizzas.
Bake at 450°F (medium-high, 230°C) for ~20 minutes each, or until crusts are golden brown. Let rest for a few minutes before slicing.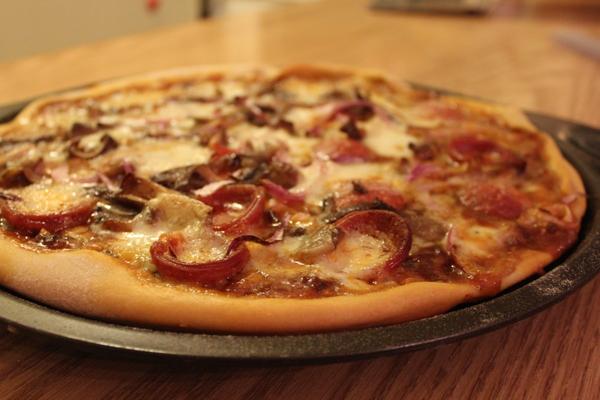 Cuisine:

Recipe: Course:

Recipe: Main Ingredient:

WikiTags: