Posole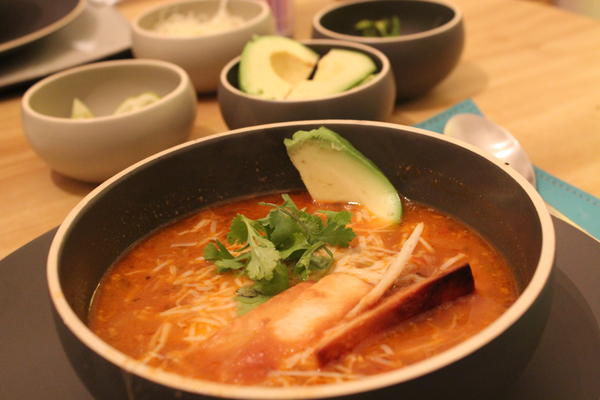 We modified a recipe from Bon Appetit to spice it up and re-balance this posole.
Roasted Pork
1 pound boneless pork shoulder (Boston butt)
½ red onion, sliced
1 tablespoon ground cumin
1 teaspoon garlic powder
1 teaspoon smoked paprika
Dash smoked salt
Posole
¼ cup vegetable oil
½ red onion, chopped
3 garlic cloves, minced
1 medium tomato, diced
2 more tomatoes, pureed (or sub in 2 14oz cans diced tomatoes, blending 1 for fresh tomatoes)
3 cups low-salt chicken broth
3 cups low-salt turkey broth (if available; sub with chicken broth if not)
2 14oz cans white hominy, drained
1 jalapeno, halved, or 2 chiles en adobo
1 tablespoon oregano (preferably Mexican)
2 teaspoons ground cumin
Kosher salt and freshly ground black pepper
For serving
Cotija cheese or queso fresco, crumbled
Chopped fresh cilantro
Lime wedges
Sour cream
Corn tortillas
To roast the pork
Preheat oven to 275°. Line a small roasting pan with foil. Mix cumin, garlic powder, and smoked paprika in a small bowl. Rub spice mix all over pork. Sprinkle with salt and pepper. Place pork in pan and cover with sliced onion. Pour 1/2 cup water in the bottom of pan. Cover pan tightly with foil and roast until meat is very tender, 4–6 hours. Let rest until cool enough to handle. Skim fat from juices in roasting pan; reserve meat and shred the meat.
DO AHEAD: Can be made 2 days ahead. Cover and chill pork and juices separately.
Posole
Heat oil in a large pot over medium- low heat. Add onion and sauté until translucent, about 5-10 minutes. Add garlic and cook, stirring often, until fragrant, about 2 minutes. Add the diced fresh tomatoes and stir until softened, about 2 minutes longer.
Stir in broths, pureed tomatoes, hominy, peppers, and spices. Bring to a boil and reduce heat to low. Cover; simmer, stirring occasionally, for 30 minutes.
Test soup for heat and consider removing the pepper(s). Add reserved pork to posole. Simmer uncovered 30 minutes longer for flavors to meld.
Season to taste with salt and pepper. Divide among bowls, garnish with shredded cheese, cilantro, and lime wedges, and serve with flour tortillas.
Season:

Cuisine:

Recipe: Course:

Recipe: Main Ingredient:

WikiTags:

Specialty Ingredients: