Salmon with Tomato and Olive "Salsa"
Audrey whipped this up to go with grilled or pan-seared salmon. It was easy and delicious!
For the salsa fresca:
2 parts cherry tomatoes, quartered
1 part rough chopped kalamata olives
1 part diced red onions
1 part feta, crumbled
lemon juice
olive oil (if possible, from a jar of sundried tomatoes)
Salt and pepper, to taste
For the salmon:
Wash and thoroughly dry the fillet.
Season the flesh side with salt and pepper, a dash of smoke salt, garlic powder, lemon pepper, and a dash of herbs de Provence
Heat grapeseed (or other, high-heat) oil in a skillet
Sear the salmon, flesh side down, for 2-3 minutes, depending on thickness. Flip (once!) onto the skin side, sear for another 3-4 minutes. Remove and let drain on paper towels and to come to full doneness for a minute.
Serve with salsa on top.
Salmon method courtesy http://www.alwaysorderdessert.com/2012/04/simple-pan-seared-salm...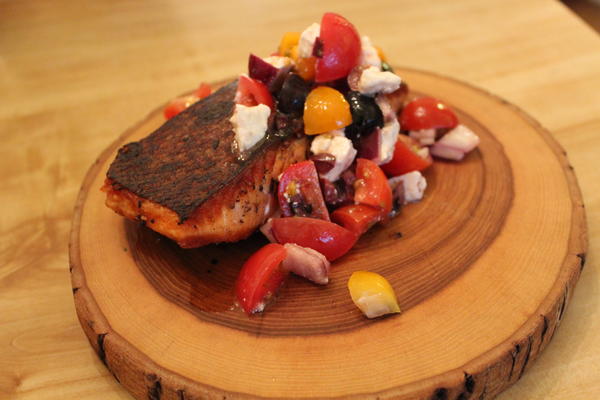 Season:

Cuisine:

Recipe: Course:

Recipe: Main Ingredient:

WikiTags: